Japan travel tips 6/29/2015 Kamakura,Kyary Pamyu Pamyu&Cheap Dining
Japan travel tips 6/29/2015 Kamakura,Kyary Pamyu Pamyu&Cheap Dining
Eating like the locals is a precious experience for anyone traveling to Japan, but if you don't know how to and where, there's a pretty big chance you end up only eating the dishes you already know, like sushi, sashimi, tempura and sukiyaki. ■Fruit Picking Bus Tour with Kyary Pamyu Pamyu 17 Jul Hokkaido 1 Aug Tokyo 17 Aug Osaka 21 Aug Fukuoka *You must be a member of KPP CLUB. If not, you must apply for a membership via the Kyary Pamyu Pamyu official website while entering a drawing. For more information on KPP CLUBhttp://kyary.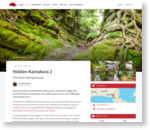 Not to be outdone by the Daibutsu Hiking Course, Kamakura`s rugged hills provide the perfect backdrop for the equally impressive yet more challenging Tenen Hiking course.
Lolita Fashion, the fashion from Japan that manifests a unique beauty. It is getting more popular than ever and captures the hearts of girls all over the world. There are even foreign visitors who come to Harajuku for the sole reason of Lolita. Today's information is regarding faces. You must already be aware that the Japanese wear masks year-round even if they're not sick. The masks have become more and more diversified and it has become known to the world as a part of fashion. I walk up to the register and put my melon bread on the counter. Before doing anything, the clerk puts two hands across her waist. She bows, almost deep enough to hit her head on the already low counter.