Japan tourism&culture spots select ~6/29/2015 Tsukiji Fish Market,Tochigi&Kamakura
Japan tourism&culture spots select ~6/29/2015 Tsukiji Fish Market,Tochigi&Kamakura
A holy ground for sushi loversWithout a doubt, Tokyo's Tsukiji Fish Market is the largest and most famous fish market on the planet. Paying a visit is like a holy pilgrimage that sushi lovers all over the world dream about.
Perfect for a romantic getaway, for families, or for large groups, this campsite has something for everyone! It is not possible to get to Odagiri Garden by public transportation, but that is just one reason this place is so special. To get there, take the Tohoku Expressway to the Nasukogen exit.
Eating like the locals is a precious experience for anyone traveling to Japan, but if you don't know how to and where, there's a pretty big chance you end up only eating the dishes you already know, like sushi, sashimi, tempura and sukiyaki.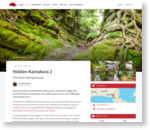 Not to be outdone by the Daibutsu Hiking Course, Kamakura`s rugged hills provide the perfect backdrop for the equally impressive yet more challenging Tenen Hiking course.
It is just after sunset and hundreds of people have gathered around the docking bays of Minamiboso on the southern edge of Chiba Prefecture. As men bang away on taiko drums, dozens of women emerge from a hilltop shrine.
It's our job to tell you all about Tokyo's top spots, of course. Take a look at our Area Guide page and you'll find the best things to do in all the most popular areas from Shibuya to Koenji.